About
Thacker Insurance Service LLC
Meet Our Staff
As our client, you will have a team of highly qualified professionals working for you to provide you with the best coverage for you, your family, or your business. Building a long-lasting relationship with our clients is our number one priority.
---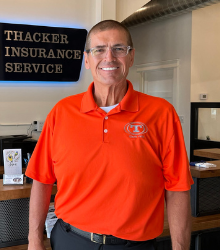 Agency Owner
Direct: (618) 664-4266
Curtis is excited to bring new energy and approach to the family agency started by his parents in 1982. He brings 30 years of insurance experience to his role as both owner and producer, working closely with commercial and personal insurance clients to find the right policy for their needs. Curtis also relies on the leadership skills he gained from collegiate baseball to guide his strong team of professionals to deliver quality service to you.
Curtis is the proud husband of Natalie and proud father of one daughter and one son. When not in the office, Curtis is active in his community, serving on the boards of HSHS Holy Family Hospital Foundation and the Greenville Chamber of Commerce. He is an avid fan of the St. Louis Cardinals, St. Louis Blues, and Dallas Cowboys (but don't hold that against him).
---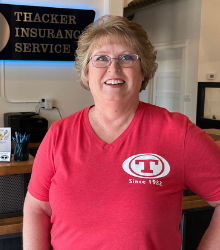 Office Manager
Direct: (618) 664-4266
Shellie came to Thacker Insurance Service in March 2017. She has 9 years of insurance experience and takes pride in her attention to customer service and insurance education. Shellie loves to ensure her clients fully understand their policy decisions. Raised in the Mulberry Grove and Greenville area, Shellie and her husband live on their family farm just south of Greenville and enjoy spending time with their two adult sons and their families.
---
Sue mollett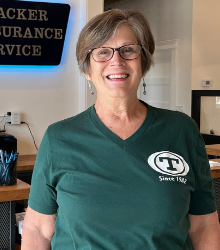 Sales Agent

Direct: (618) 664-4266
Sue came to Thacker Insurance Service in 2016 and is proud of her 29 years of experience in the insurance industry. Taking great joy in helping our clients understand their insurance needs, Sue says she treats her policyholders just like friends and focuses on caring and fairness. Sue enjoys gardening and camping and is very proud of her family, especially her three grandsons.
---
blake knox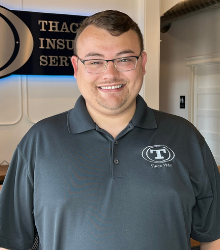 Sales Agent

Direct: (618)664-4266
Blake Knox joined Thacker Insurance Service in December 2020 and brings over 4 years of experience. A Greenville native, Blake is excited to provide the best service and coverage options for you and your family. Known for his dedication to education, Blake enjoys teaching clients about the details of coverage and what it can do for families in times of need. In his free time, Blake supports St. Jude's Research Hospital, the Alzheimer's Association, and the National Park Foundation.

---
Rene Barr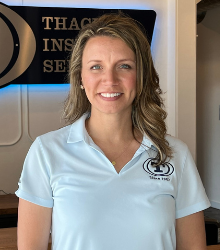 Sales Agent

Direct: (618) 664-4266
Rene Barr joined Thacker Insurance Service in August 2021 with a background in agriculture and 16 years of experience as an agriculture teacher. She is eager to learn more about the business and apply her previous experience to help customers find and understand their policies. Rene grew up in and lives just north of Grantfork. She is blessed with a wonderful husband and five amazing daughters. She enjoys working on their small hobby farm, raising and showing livestock with her children, photography, and supporting the FFA and 4-H.
---
---
Ky Stoecklin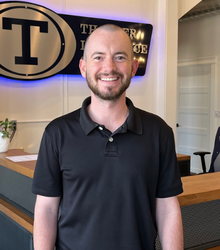 Sales Agent

Direct: (618) 664-4266
Ky Stoecklin has joined Thacker Insurance as a Commercial Insurance Producer that can also assist you with your home, auto, and life insurance needs. A lifelong resident of Greenville, IL, Ky is excited to offer the best policies to his native community and his many friends and family. Ky said, "When the opportunity to join the incredible team at Thacker Insurance Service came along, it was an easy decision. We focus on providing the best protection at the best possible rate while offering the best service a client could ever need.